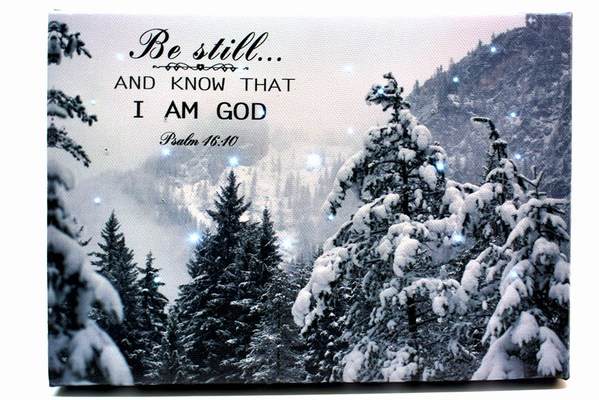 LED Be Still And Know That I Am God Psalm 46:10 Canvas Print
Item Number: 558235
Dimensions: 5.9" x 0.79" x 8.27"
Composition: Canvas & Lights
UPC: 845182038935
Vendor: Oak Street Wholesale, Inc.
Vendor ID: OSW177882
---
Tish
posted on
December 24, 2019
I bought 3 for my daughter & grandchildren to keep in their rooms and remind the that Jesus IS the light of the world. Everyone is so busy and this lovely canvas will remind them to "Be still and know that I am God." I love the timer feature: 6 hours on & 18 off. No need to turn it ON & OFF. SOOOO excited to give them this present! Mine is sparking & twinkling in front of me now. I received it as a gift & loved it so much that I scoured the web & found it here at the Christmas Mouse. How fun.
---